Rhinoplasty checklist and essentials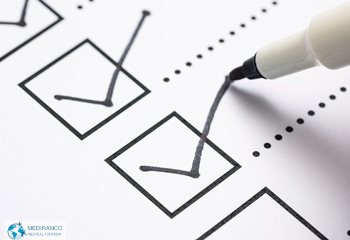 Rhinoplasty checklist and essentials : For years, you have been dreaming of your rhinoplasty, which is almost here! Before your special day, this information will help you with the final preparations. Tell us if you have questions and follow the surgeon's directions. At your last post-consultation, we will give you specific details about preparation.
Pre-Rhinoplasty surgery checklist
There are a few essential questions to consider before choosing on the surgeon or proceeding with rhinoplasty surgery:
Am I selecting surgery at the right time and for the right reasons?
Can I experience an initial period of recovery of around 2 weeks?
Am I patient waiting until I see the final results, until all of the swelling comes down?
Have I adequately researched my procedure and am I ready for my first consultation on surgery?
Is my favorite surgeon a professionally experienced, qualified plastic surgeon?
Does my Rhinoplasty procedure take place in a professionally licensed hospital?
Am I healthy, and do I keep a healthy lifestyle with nutrition?
Do I have realistic expectations of what can actually be performed by nose job surgery?
Essential things to buy before rhinoplasty
Medicine like antibiotics, birth control pills if using, pain pills (Now, we are not trying to get into the details because we are sure you know what we are looking at. You can well end up with constipation as a side effect, depending on what, if any, pain medicine you use. This is generally not good, so ensure that, just in case, you have a pro-active plan set up!)
Hydrogen peroxide, nasal saline spray, antibiotic ointments (Your doctor will send you a few days after your surgery to use a solution or spray to clear any dry blood spots that linger in your nasal cavity after your surgery. Using a saline solution or spray helps dry your nose during the coming weeks as the swelling subsides, as well as having the original "cleaning out" job, which can give you a nice feeling of getting a cleaned nose.)
Chapstick or Vaseline (There is a strong likelihood that the early stages of healing will find you dealing from dry lips after having rhinoplasty. Confirm that by providing a high quality lip balm to call on, dry lips are avoided from being sore broken lips. Make sure to order this pre-op and take it to the hospital so that you instantly have your favorite one to hand.)
Water bottle, Gatorade and juice
Packs of peas or berries that are frozen (for icing, cleansed with alcohol first)
Thermometer (a potential indicator of fever, to make sure you do not develop a fever)
Tips of Q (to gently cleanse nostrils once bandages come off)
Antibacterial soap free of fragrance, such as dials or protective guards (for cleansing)
Magazines, books, films (to keep you occupied)
More
Cold mist cooling pad (Because in the early stages you will be breathing primarily through your mouth, a dry mouth is a given. Among rhinoplasty patients, mouth strips are a common alternative, but mouthwash is another option if you want to use it instead.)
Biotene Spray of the mouth (to keep your throat hydrated until you can breathe through your nose again)
Cream of Arnica (to reduce bruising and swelling)
Pillows (to keep your head elevated)
Travel neck pillow ( For postoperative rhinoplasty, a U-shaped neck pillow is a must. But why? Your consultant will advise you to sleep straight, maybe for only a few days, but probably for longer. Different consultants will offer different timescales.)
Facial wipes (Last but not least, cleaning your face is going to be challenging, of course. You should prep yourself with moisturizing face wipes to make it easier to wash your face during the early stages of recovery, when your doctor may give you a particular soap or solution based on the scarring.)
Clothing you do not have to pull over your head
A glass of water and salt crackers (to take medication on your way home)
Easily digestible foods (scrambled eggs, Jelly, soups, oatmeal, pudding, apple sauce, yogurt, smoothies)
Air Humidifier (Breathing air with greater humidity than normal will assist with the problems of dry lips and mouth, so you may want to invest in an air humidifier based on where you are undergoing the procedure and where you are in Iran. For those of you who use air purifiers to keep your home more comfortable while it is warm, try shutting them off when you are recovering from surgery.)
Night before rhinoplasty
Rhinoplasty checklist and essentials on the night before the rhinoplasty. On the night before the rhinoplasty several patients feel anxious and excited. Using this time to handle some final preparations so that the next day you are ready for your surgery. Here are rhinoplasty essentials for the night before surgery.
Complete Your Medications: Get them filled before your surgery if we have given you any prescriptions. This helps you to go back home to relax after the operation instead of running to the pharmacy to get your drugs.
Stock the freezer: Fill the fridge with options for fast eating and drinking. You might feel a little nauseous the day after surgery, so you have a few relaxing, easy foods on hand. Jell-O, ginger ale, crackers, fruit smoothies, and pudding are favorites for patients. For the first 24 hours, we suggest soft, light foods. Prevent hot or spicy foods or foods that need a lot of chewing during recovery time.
Hydrate: The day before surgery, drink lots of water. Healthy hydration can alleviate nausea and, after surgery, make you feel better.
Take a shower: The night before the operation, take a shower. Wash out all makeup, deodorant, lotion, etc. Do not apply something more to your skin after your shower, like lotion. Any nail polish you may be wearing should also be removed. The morning after your surgery, you will want to take a second shower.
Don't Eat: Don't eat or drink after midnight on the day of your rhinoplasty. With an empty stomach, surgery is better.
Last word
It was Rhinoplasty checklist and essentials . Would you like to hear more about recovery from rhinoplasty? To book a one-on-one consultation with our specialist plastic and cosmetic surgeons, contact Mediranco at + 989306580080. Our experts have years of plastic surgery experience and can allow you to be more prepared for your recovery from a nose job.
Iran is the best destination for rhinoplasty, with the cheapest price and the most professional surgeons. For more information and to see the Mediranco packages, read the nose job in Iran page.
Frequently Asked Questions
LATEST ARTICLE