Labiaplasty in Iran
Recovery time : 12 - 14 days
Stay in Iran : 7 days
Clinic stay : 1 day
Cost : From 470$
Free Consultation
Labiaplasty in Iran : If you search in Google about labiaplasty, you may yield other phrases like "vaginal rejuvenation" or "designing vagina," however, the goal that we follow in this article is at first to distinguish a labiaplasty from other terms of vaginal rejuvenation, then let you know about the actual labiaplasty process.
Vaginal rejuvenation is a wide term that encompasses a tremendous number of offers for this ever-growing field of elective healthcare. Novel facilities and treatment options are entering the market almost every month, and the majority of women are using these treatments more commonly.
Therapies for "vaginal rejuvenation" typically include novel facilities like lasers, radiofrequency, and ultrasound just to name a few. Most vaginal rejuvenation procedures utilize some form of energy to accomplish a myriad of outcomes such as vaginal tightening, decreasing incontinence, and eliminating vaginal dryness. Anyhow, the FDA lately released a statement about these kinds of treatments, explaining that some of the manufacturers of these facilities were not being completely transparent with the clinical claims of these devices.
The main difference between labiaplasty and other types of treatments under the "vaginal rejuvenation" umbrella is a labiaplasty is a surgical process. The labiaplasty process help to decrease the size of the labia minora which is known as the inner tissues of the female genitalia, so that it is flush with the labia majora which is the outer part of the female genitalia.
This procedure is done by using several different surgical techniques depending on the patient's specific structures. There are no specific facilities like lasers required with a labiaplasty, and you will work with your plastic surgeon to determine the expectations of your operation.
Try to get more information by having a free online consultation with Mediranco's professional group. You can also tell us about your history and expectations to understand which type is the proper method for you.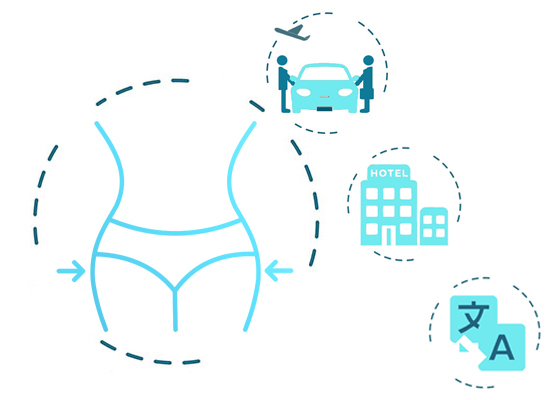 Labiaplasty cost in Iran
According to the American Society of Plastic Surgeons (ASPS), the average cost of a labiaplasty in 2021 operation was evaluated between $2,800 – $3,100, but there are other expenses that can affect the costs like the facilities and methods which are utilized during your labiaplasty procedure. Although the prices are high in American or European countries, you can have this operation in Iran, one of the most famous destinations for medical tourists, with very affordable prices.
Labiaplasty process cost in Iran depends on various factors like the chosen surgeon and the hospital…. The average cost of Labiaplasty in Iran is estimated at $700. You can ask our professional experts in the Mediranco team and then make decisions.
It's important to know about different aspects, especially the costs, and then consider booking a cosmetic procedure. We provide all of your necessities and you should not be worried about anything.
Booking hotels, doctor visits, hospitalization, rehabilitation process, and … are accommodated based on your expectations.
Haven't decided yet? Let us help you, it's free
Types of vaginal rejuvenation procedures
Questions to ask your doctor before Labiaplasty ?