Nose job consultation 27 Questions You Should ask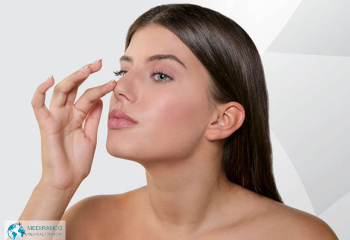 We start this article with the topic of rhinoplasty consultation, so if you are one of the people who want to have rhinoplasty, and you are planning to have rhinoplasty, read this article in full. Before performing any operation, whether cosmetic or therapeutic, it is necessary to see a doctor and get advice from her.
At the rhinoplasty consultation, the doctor will provide the patient with the necessary information, including preoperative or postoperative care, and the doctor will talk to him or her to find out if the patient has asked for the result. Whether it is reasonable or not, and if the request is unreasonable, the doctor will try to inform the patient of his wrong thoughts.
What should I ask in my Nose job consultation?
What kind of nose do I have? Fleshy or bony?
What type of rhinoplasty is right for me? Open or closed surgery?
What should I eat before the operation?
How long should I not smoke before the operation?
How long should I not drink alcohol before the operation?
Does going to the gym affect rhinoplasty?
Can I bandage my nose?
How do I get a massage?
How much experience do you have in rhinoplasty?
How many rhinoplasty do you have per week?
How long does it take to operate a nose?
What technique do you have in mind for my nose job?
Where do you do nose surgery? Hospital or clinic?
What nose model do I like and is the desired model that I described to you possible?
Do you have reconstructive nose surgery?
What type of anesthesia is right for my anesthesia?
Is Laser Rhinoplasty Real?
What technique do you use for fleshy nose surgery?
How much does it cost to have a nose job?
Is closed surgery suitable for my nose or open surgery?
How long does it take for me to finish my recovery and get to work safely?
After how long can I see the result of the nose job?
What should I do before nose surgery?
What should I do after rhinoplasty?
When can return to the normal life?
How long can I wear glasses?
What are the complications of rhinoplasty?
How can I see my nose job results before surgery?
You're not alone if you've ever wanted to know what you would look like with a nose job and even looked for ways to see what your "after" photo would look like. With the rising trend of photo editing apps, more people than ever are seeking nose job simulators, and nose job visualizers to see after rhinoplasty what I would look like.
However, we know how misleading such applications can be, as board-certified plastic surgeons and rhinoplasty professionals here in Mediranco. Instead of providing constructive advice, they are more likely to lead to excessive hope or skepticism, which may also result in lower self-confidence.
What are the failures of these apps, how do you see your rhinoplasty results accurately before an operation? Please read further for more information.
Can applications truly show you what a nose job you want?
Many picture editing applications encourage you to customize your features so that you can supposedly see possible rhinoplasty outcomes. In only a few taps, you can pinch through a smaller bridge, smooth out the cracks, and reduce the breadth of your nose. Instagram and Snapchat also feature built-in beauty filters which reform your nose, cheeks, chin, etc. to match a predetermined "ideal."
Although these applications can give you a vague impression that after rhinoplasty, what would I look like, filler, or other facial procedures, they are very short in terms of precision. They focus on a single lighting scenario and camera angle to send you a 2D representation that loses depth and is not accurate to the real proportions. Worse still, this adjustment is performed by someone who has no advanced knowledge of facial anatomy, let alone expertise in plastic surgery.
Relying on these apps alone can give you a misconception about what you can do. They can generate completely unrealistic expectations, which either make you believe you need operational correction or make you believe that operation cannot provide you with the result you are looking for (when it very well might).
How do you see what you're going to look like for a nose job?
Thankfully, with the aid of a qualified plastic surgeon, and nose job visualizer in Mediranco, you can visualize the performance. Plastic surgeons have specialized facial anatomy experience and expertise in accentuating the distinct features of each person by meticulously performed procedures.
Mediranco uses 3-D imaging, an industry-leading program that helps us to predict your results using our extensive experience in cosmetic plastic surgery during nose job consultations. We generate a multidimensional visualization of your improved nose with the aid of this software and work with you to evaluate your ideal result. We use this to devise a customized surgical strategy that we closely execute to generate an outcome that enhances your confidence.
Nose job 3d imaging in Mediranco: nose job simulator
Years earlier, 2D optical or printed front-profile images were used to demonstrate surgical results. Pictures have been reworked using Photoshop or related tools. Of course, the simulations were not correct.
Three-dimensional simulators are now an important method. The 3D currency is secure, accurate, and assertive when explaining rhinoplasty outcome scenarios.
On a 4K screen, 3D images are projected. Thanks to 3D technologies, doctors will measure a few metrics. Depth, volume, and height. Form, symmetry, and scale. The suggested mods are then interpreted on a real basis. Dorsal hump reductions, nasal tip projections, nasal refining are accurately simulated.
The core benefits of 3-D imaging are here:
You can rotate the faces to display them at any possible angle
Morphing is done on a 3-D image so that it does not have to be replicated on each
perspective as required for 2-D imagery.
Real volume modifications, such as how much to extract from the nose or apply to the
cheek or jaw, are immediately available.
Much preferable to 2-D imaging, which I noticed was perfect for nose and chins, but not that much for facial surgery such as facelifts, facial implants, and facial fillers.
What happens at a nose job consultation?
A great rhinoplasty surgery starts with a good consultation, where the patient and the surgeon come together to go over the operation and any aspect it involves. Half of the progress of the surgeon's first one-on-one consultation stands heavily on your shoulders. Preparing for your nose job consultation ahead of schedule launches your road to a fresh look right off. In this critical consultation, after performing a careful examination of your nose and discussing your medical history to ensure that you're a good candidate for surgery, we will also discuss the below factors:
Images: Images of the nose can be taken from different angles if the surgeon is pleased with their appraisal, and there are also no causes to rule out the operation. To manipulate the images, computer software could then be used to show you the kinds of results that might be possible. These photos are also used as a guide during the surgery and for long-term evaluations for before-and-after assessments.
perfect nose for your face: In nose job consultation, openly and frankly express your feelings about your nose, but be able to hear what your surgeon would have to say as well. He or she will be able to tell you what qualities and attributes can be quickly changed or minimized once he or she gets the opportunity to closely analyze the nose. To bring harmony to your appearance, the surgeon would also have a clear sense of the facial proportion and the scale of the nasal system. Your facial plastic surgeon will be ab
le to build a cosmetic strategy to achieve a nose that both pleases you and matches your other features with this exam and your intended outcomes in mind.
Rhinoplasty online consultations
In the rhinoplasty online consultation for Mediranco rhinoplasty packages, our team ask you some nesessery question to check if you are the good candidate for a nose job or not, they will guide you in right way to have the best result. You may have asked for three photos of your nose from three views: front, sides and inferior view. It helps to have initial check on your nose to choose the best method of surgery and the complications. Then you can ask your questions about everything of your concerns.
Are rhinoplasty consultations free?
We in Mediranco provide the rhinoplasty consultation free for all my patients. but some surgeons and companies charge patients for rhinoplasty online consultation.
The rhinoplasty online consultation that we talk before is not enough, it is just a first check of your nose, so we prepare online video chat with some of our surgeons if you make your final decision to have rhinoplasty with him.
You will get the details you need to decide if the rhinoplasty is correct for you at your rhinoplasty consultation. Call us and take the next step if you're dreaming of rhinoplasty. Today, call to book your appointment.

Get a Free Consultation
Iran is the best destination for rhinoplasty, with the cheapest price and the most professional surgeons. For more information and to see the Mediranco packages, read the nose job in Iran page.
Frequently Asked Questions
LATEST ARTICLE