How to choose the right rhinoplasty surgeon?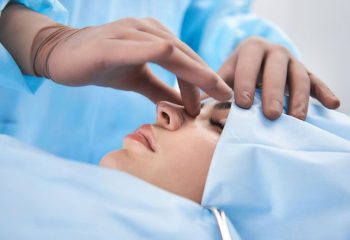 How to choose the right rhinoplasty surgeon? You may also experience hearing people say, "If I had spent more time choosing a specialist and done enough research, I would have had a better nose job." This is a common phrase among all people who do not have successful experience of rhinoplasty. When you decide to have rhinoplasty, the first and most important step you should take is to find a qualified and experienced doctor. In rhinoplasty, you leave the beauty of your face along with your respiratory health to the doctor, so obviously you have to choose a trusted and best nose surgeon to do this.
Who is the surgeon?
A person who has the skill of surgery is called a surgeon. He performs surgery in his specialty in the operating room. There are different types of surgeries, including heart surgery, neurosurgery, obstetrics and gynecology surgery, cosmetic surgery, etc., each of which is performed by a specialist surgeon.
Surgery is one of the treatments in medicine. This procedure usually involves making an incision to remove a part of the body (such as the gallbladder, tonsils, or appendix) or infected or cancerous tissue, or inserting a device (such as a prosthesis or prosthetic valve), or manipulating or correcting a defect (such as suturing an aneurysm or opening a vein). Surgery likely occurred at the same time as the advent of medicine.
Many people who apply for rhinoplasty do not know which ENT specialist is a better or plastic surgeon? There is also talk among people that, for example, if a person's nose has respiratory problems, it is better to have surgery by an ear, nose, and throat specialist, and if only cosmetic is considered, the plastic surgeon is more skilled in this field.
Who is a plastic surgeon?
A plastic surgeon is someone who, after passing a general medicine course, continues to specialize in general surgery and after completing this course, also specializes in the field of plastic surgery. A plastic surgeon can cover two areas:
If a person's limbs are damaged by an accident such as an accident, fire, etc., the plastic surgeon can not only restore the proper function of these organs but also restore their beauty.
The second area is in people who refer to a plastic surgeon for cosmetic purposes only and tend to make changes in their head, face, or body. These changes can include rhinoplasty, eyelid drooping surgery, face and neck lift, arm and thigh cosmetic surgery, reduction of abdominal and flank fat, genital cosmetic surgery, etc.
In what field does the ENT doctor specialize?
An ENT specialist is someone who specializes in this field after completing a general medicine course. This specialist specializes in diseases of the ear, nose, throat, larynx, mouth, and generally the head and neck. These diseases can include throat infections, sinusitis, head and neck glands, etc.
The right surgeon for rhinoplasty
Now back to the question of How to choose the right rhinoplasty surgeon?
In answer to this question, both specialists can perform rhinoplasty both to improve the appearance of the nose and to improve its function. Many websites have written that a plastic surgeon can perform rhinoplasty better or vice versa, but it must be said that this material is not fair and is written based on personal interests.
A plastic surgeon can also treat breathing problems during rhinoplasty. On the other hand, many ENT specialists also take courses in cosmetic surgery or become acquainted with aesthetic concepts by studying aesthetics and experimentally.
Past surgeries show that the success rate of rhinoplasty has nothing to do with whether the doctor is an ENT specialist or a plastic surgeon, and those respiratory problems or physical defects in both procedures are possible.
Therefore, to choose the right surgeon, it is better to pay attention to the experience and work samples of the surgeons and consult with the people who have operated on them so that you can make the right choice.
Can a maxillofacial surgeon perform a nose job?
An oral and maxillofacial surgeon is someone who first takes a general dentistry course and then specializes in maxillofacial surgery. Many maxillofacial surgeons also perform rhinoplasty, which is not approved by some ENT specialists and plastic surgeons, and according to them, maxillofacial surgeons cannot get good results from this surgery due to a lack of aesthetic knowledge. Gain the beauty of the nose. Also, because these dentists are not familiar with the nature and physiology of the human body, they will not be able to deal with it properly if they encounter a problem during the operation.
The rank of Iranian rhinoplasty in the world
According to the announced statistics, the most common cosmetic surgery in Iran is rhinoplasty (Guardian), and accordingly, Iran ranks first in this field. Also, in terms of the number of plastic surgeries, Iran is among the top five countries in the world.
Rhinoplasty surgeons in Iran
How to choose the right rhinoplasty surgeon? in iran As well as the high number of rhinoplasty in Tehran, Iran, Iranian rhinoplasty surgeons are experienced in this field, because many of them have numbers of rhinoplasty per year.
They almost have graduated from the best universities and pass specific courses in cosmetic surgery and medicine. Iran rhinoplasty surgeons are among the most skilled nose job surgeons in the world with an amazing success rate.

"Statistics and success rate:
Based on statistics the rhinoplasty in Iran is performed 7 times more than the US, more than 150,000     surgery in a year. it's enough to make Iran the capital of nose job in the world. More than 90% success rate shows that Iranian surgeons are super professional in this field because of high experience and surgeries. You can count on rhinoplasty surgeons in Iran."
Features of the best rhinoplasty surgeon
A rhinoplasty surgeon should prioritize the patient's health and not just focus on personal interests.
Know the aesthetic principles and be able to visualize the nose after rhinoplasty to be able to suggest the best nose model to the patient.
The rhinoplasty surgeon must be patient and explain the pre-rhinoplasty and post-rhinoplasty procedures to the person to achieve the desired result of rhinoplasty.
A good rhinoplasty surgeon spends enough time consulting and examining the patient before and after rhinoplasty.
If the patient has an unreasonable request for rhinoplasty, the rhinoplasty surgeon should convince him, and if the person is not convinced, to avoid his rhinoplasty.
Tips, How to choose the right rhinoplasty surgeon?
Having sufficient expertise and skills in the field of rhinoplasty is one of the criteria that a good rhinoplasty surgeon should have.
An experienced rhinoplasty surgeon selects the best rhinoplasty technique after examining the nose in terms of the thickness of the skin, bone, and cartilage of the nose.
Maintain the health and respiratory process of the nose and during nasal surgery in a way that does not interfere with the person's breathing by shrinking the nose.
There are different types of noses and a good nasal surgeon should be able to create the ideal shape in any type of nose model.
Consider the size of other parts of the face and maintain the fit of the nose with other parts of the face, and in general, one should have reasonable expectations of rhinoplasty.
Do not force the nasal surgeon to make the nose too small and the operated nose model is a fancy nose. If you have very large and fleshy noses, this nose model may have postoperative complications.
Frequently Asked Questions
LATEST ARTICLE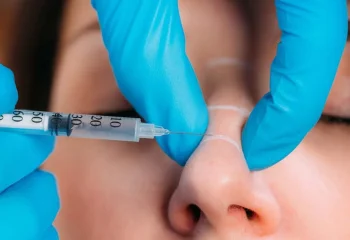 Nonsurgical Rhinoplasty
Rhinoplasty or nose job, is one of the most common plastic surgery procedures. However, there is an…