Breast augmentation recovery stages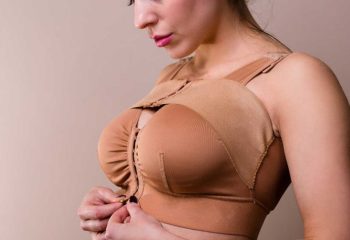 Each disease is different and the length of the recovery period will also vary. Numerous factors such as the size and type of prosthesis, the placement of the prosthesis as well as the surgeon's skill during the recovery period are involved. On average, the
recovery period of breast prosthesis
surgery is about four to six weeks. What is important is to avoid physical activity, lifting heavy objects or doing too much work during this time.
Breast augmentation recovery time back to work
You will probably return to work in a week, unless your work requires moving heavy objects, bending a lot, and doing intense stretching activities. On the other hand, you may feel ready to resume your social activities, but be patient Avoid driving for 1 to 2 weeks after surgery or as long as you are taking sleeping pills. Avoid driving until you have complete movement of your shoulders and arms in all directions.
Chest pain after breast prosthesis surgery
You may feel chest pain for several weeks after surgery, especially in the early days. Also, this pain intensifies when you use your hands. This is perfectly normal, and it is best to avoid strenuous activity in accordance with your post-breast augmentation care instructions. It is normal to feel chest weakness, the presence of a foreign body in the body, as well as swelling and numbness. However, you must inform your doctor about the swelling for more than a week.
24 hours after surgery
After surgery, the patient may experience fatigue, nausea, chest tightness, or increased or decreased breast tenderness. Over time, the amount of breast swelling will also decrease. After surgery, the patient rests in the recovery room for a few hours to completely eliminate the effects of anesthesia. It is important that a friend or family member accompany the patient for a few days after surgery. During the first 24 hours after surgery, the patient may feel pain and discomfort. Taking painkillers such as acetaminophen is recommended as directed by your doctor.
2 weeks post op breast augmentation:
At this time, your condition is much closer to normal and you will feel enough energy. You probably still use a medical bra all the time, but unfortunately you still can't go to the gym to exercise. At this time, your daily activities have returned to normal, except for lifting heavy objects.
3 weeks post op breast augmentation:
As your one-month celebration approaches, you should be able to exercise. Although some restrictions are still necessary in recovery period of breast prosthesis. Wait a short time to start chest exercises and on the other hand, exercises on the shoulders and arms are gradually added. But our best advice is to stop them if you feel any discomfort or pain and start again one to two weeks later. Listen to your body and do not overwork it. Patience is the key to recovery. Avoid lifting objects heavier than 2.5-3 kg for 6 weeks, and this amount and overall duration can be adjusted by your surgeon.
Things to Avoid After breast augmentation
You should avoid strenuous exercise and stretching for at least six weeks after surgery because strenuous movement will open the stitches and slow the healing process. Stitches are removed when improvement is seen.
Immediately after surgery, avoid any action that could open the wound as much as you can. Also avoid washing your hands by hand when taking a shower. Because raising the hand too much is difficult and uncomfortable. After seven to 10 days, the hand movement becomes easier and you can do gentle stretches to prevent muscle wasting.
During the first month, you can start gentle aerobic and cardio exercises as long as they do not affect your recovery. If the prosthesis is placed under a muscle, you should avoid chest exercises that put pressure on the muscle for up to 12 weeks.
Wounds from prosthetic and lift surgery should be protected from direct exposure to sunlight and artificial UV rays for about a year. Because the skin in this area is very thin and prone to sunburn, it is recommended to use sunscreen with an SPF above 25.
Avoid driving for up to a week after surgery. Because driving mobility affects the speed of recovery. Especially if you are taking strong painkillers, you should avoid driving long distances for the first few weeks because the medication causes drowsiness and therefore you do not notice the pain reflex.
Breast massage during the recovery period of breast prosthesis
Breast massage after breast prosthesis surgery is allowed if approved by the surgeon. Many surgeons believe that postoperative breast massage helps to shape the breast and make the prosthesis more stable. The patient is taught how to properly massage the breasts by the surgeon and the medical staff, and it starts after a few weeks.
Use of stretch marks in the recovery period of breast prosthesis surgery
One of the key points in recovery and recovery period after breast prosthesis surgery is the use of a special breast stretching gene. The use of special guns and bras supports the new structure of the breasts and stabilizes the new shape. Among the benefits of using the gene after breast prosthesis surgery are reducing swelling and bruising of the breast, stretching the skin, shaping the breast and accelerating the recovery process and tissue regeneration.
Observing the points of recovery, the condition of health!
Following the recovery tips after a breast prosthesis will help you get a much better result from your surgery. Do not forget that breast prosthesis surgery is optional like all cosmetic surgeries and it is you who has chosen to do this surgery to be beautiful. For this reason, we recommend that you bring a beautiful and shapely body to yourself by following and following the tips and instructions of the recovery period after breast prosthesis.
LATEST ARTICLE