Brazilian Butt Lift in Iran
Recovery time : 12 - 14 days
Stay in Iran : 7 days
Clinic stay : 1 day
Cost : From 1400$
Free Consultation
What is Butt lift in Iran?
Brazilian hip lift is a good choice to increase the shape and size of the hips. Realistic expectations about surgery, recovery, and outcomes are important.
If you have enough fat in other areas for liposuction and then injection into the buttocks and you want to enlarge the buttocks without implants, then you are a good candidate for this surgery.
A Brazilian butt lift is a popular aesthetic operation that involves the transfer of fat from different places of the body to help increase the fullness in the buttock and correct the body structure. Many butt lift volunteers confuse the Brazilian butt lift with other derriere enhancing operations like butt implants.
Although both procedure's goals are the same and are utilized for a butt lift, implants and the Brazilian butt lift are Completely different. Butt implants are silicone-filled products that are placed under the tissue of the buttocks. The Brazilian butt lift is a fat transfer operation and doesn't use foreign body structure.
If you've read of a Brazilian butt lift and want to catch more permanent results than exercise alone during a short period, read or ask more about the Bbl procedure and different methods of buttock lift and then try to find a reputable Cosmetics surgeon to make sure it's done safely without any side effects. Iran is one of the best countries in aesthetic fields due to high technology facilities and experienced surgeons who are Innovator of novel methods in various cosmetic fields.
You can have a free consultation before making decisions. Mediranco experts are always ready to answer any questions you may have in different fields of medicine and cosmetics. You may also enhance your knowledge in various fields of medicine by reading the articles on the Mediranco site which are based on the most reliable researches.
You can contact the most experienced doctors in Iran through Mediranco and perform this surgery in Iran at the most appropriate price.Modiranco has special offers for Brazilian Butt Lift in Iran .
Cost of BBl in Iran
Ow, price is one of the prominent excellence of Brazilian butt lift in Iran which the cost is less than 200 to 400 percent of the price of Brazilian butt lift VS another area of the world like USA, Germany, and Istanbul. Brazilian butt lifts in Iran various between $1400 to $2500 depending on the type of procedure.
So if you are looking for a country to travel to perform butt augmentation and BBL procedures, Because of very skillful and experienced surgeons and affordable price Iran is one of the best and most reliable places that you want.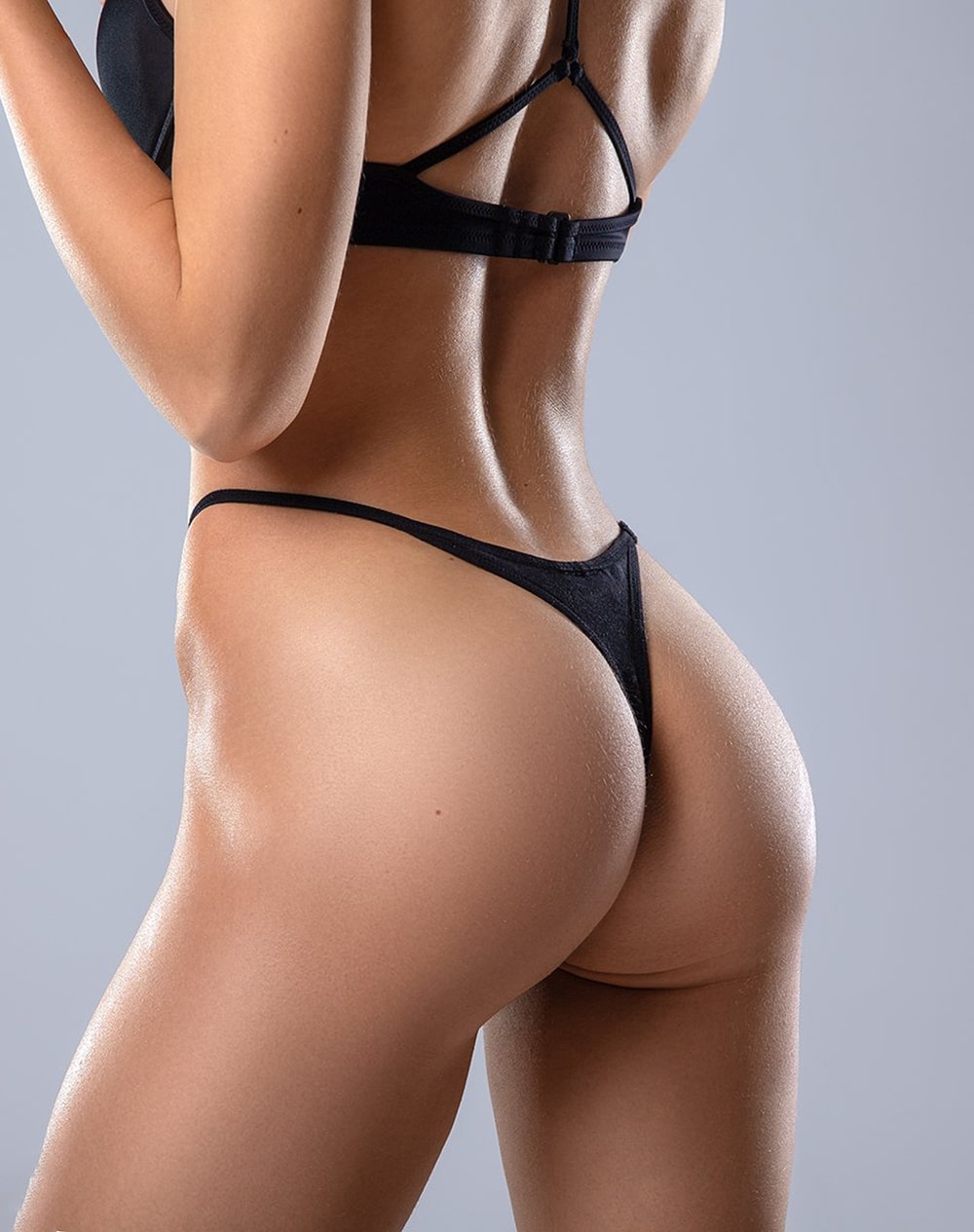 Brazilian Butt Lift ( BBL ) Procedure
A Brazilian butt lift is based on fat grafting that is notable for its natural-looking consequences. Brazilian butt lift operation entails these steps:
Although the Brazilian butt lift process is mostly done under anesthesia, during processes where a smaller volume of fat is transferred, it may be performed with only local anesthesia (numbing the operating area). The type of anesthesia is based on your preference and your health condition for example you can ask for an anti-nausea medication before the procedure, particularly if anesthesia makes you feel sick.
Your aesthetic provider then Utilizes liposuction for catching fat from other areas of your body, such as your hips, stomach, and thighs. Liposuction itself is performed by making small incisions in the skin and then using a tube to take fat away from that area. The fat stores that have just been taken from the body are purified and readied in the next step and become ready for injecting into the buttocks.
The surgeon finishes by injecting the purified fat into particular locations of the buttocks to create a more rounded, full appearance. Based on your expectations, the surgeon may make three to five incisions around the buttocks for fat transfers. Both liposuction and fat transfer incisions are then stitched.
As the last step, they apply a compression garment against the affected areas of the skin to minimize the risk of bleeding. Like all types of medical procedures, a Brazilian butt lift can cause some side effects like:
Infection
Scarring
Pain
Lumps under the skin in the areas suctioned or injected
Loss of skin in the treated areas due to deep infection
Fat embolism in the heart or lungs, which can be deadly
Current researches show a fatality rate of 1 in 3000 as a result of Brazilian butt lifts. When the procedure is done incorrectly, injected fat can enter the large veins in the buttocks, and then transfer to the lungs and make an embolism.
This is the most dangerous side effect that causes respiratory distress and sudden death.
Brazilian Butt Lift in Iran before and after photos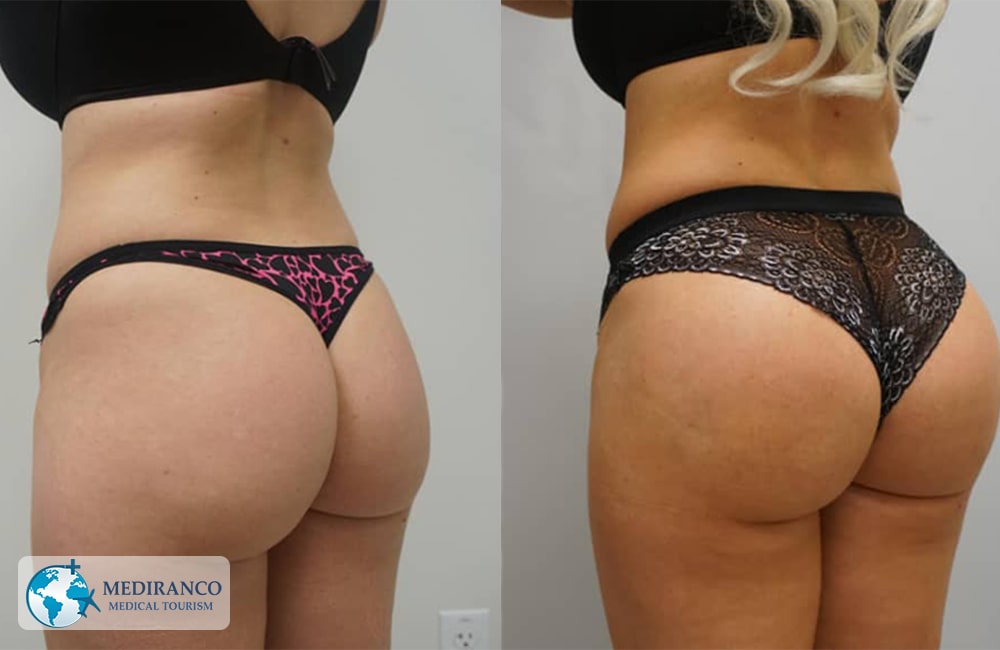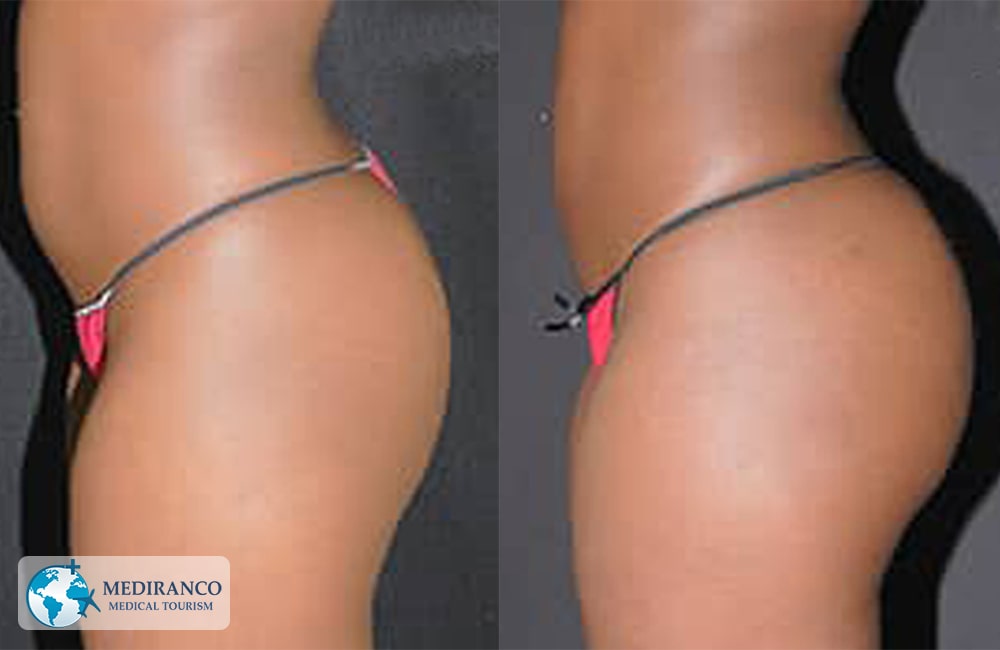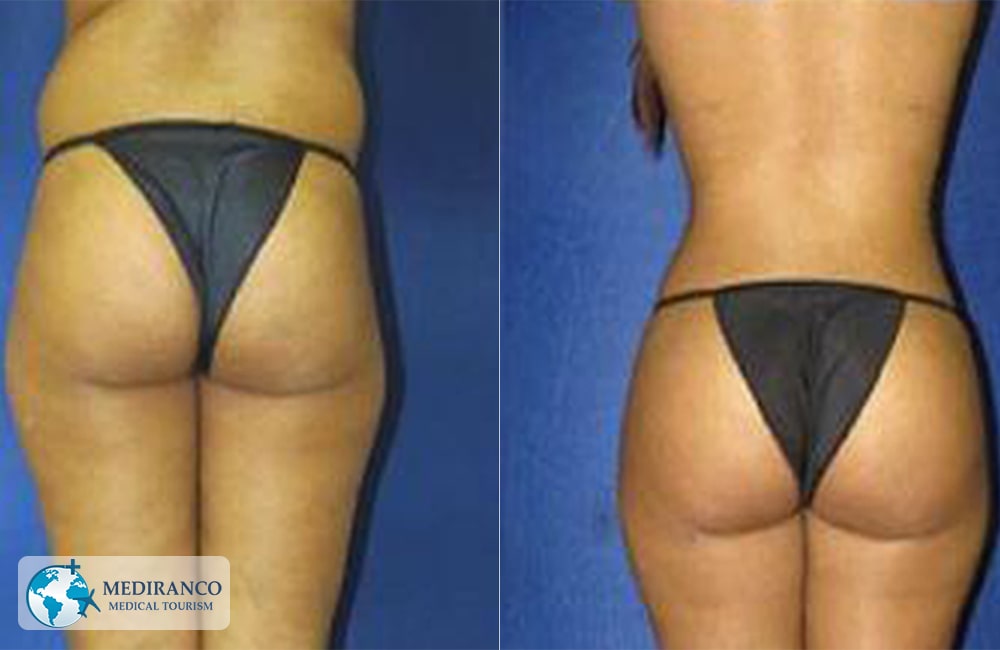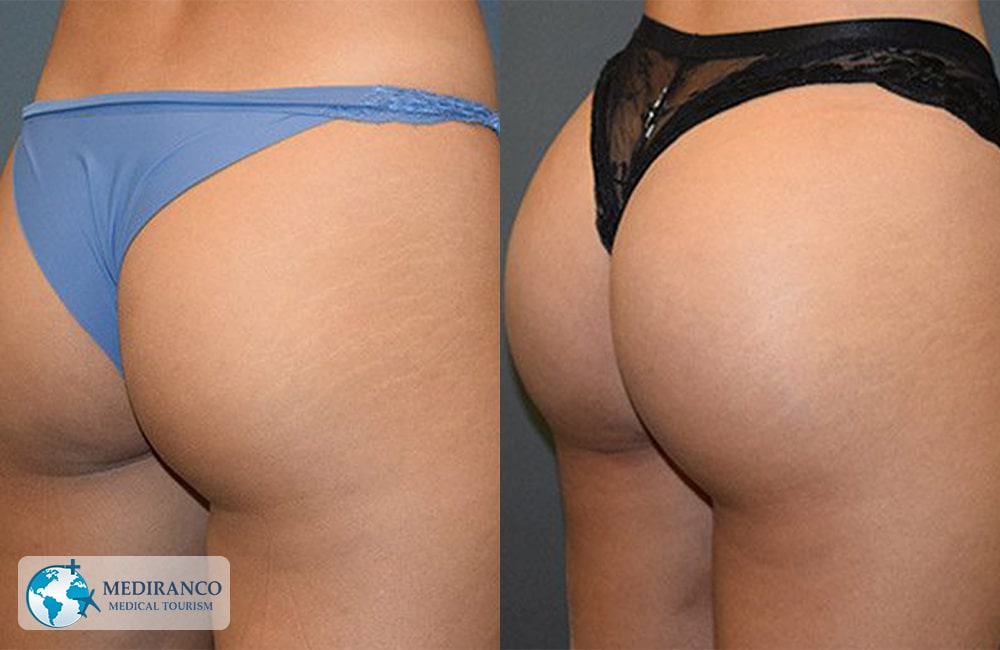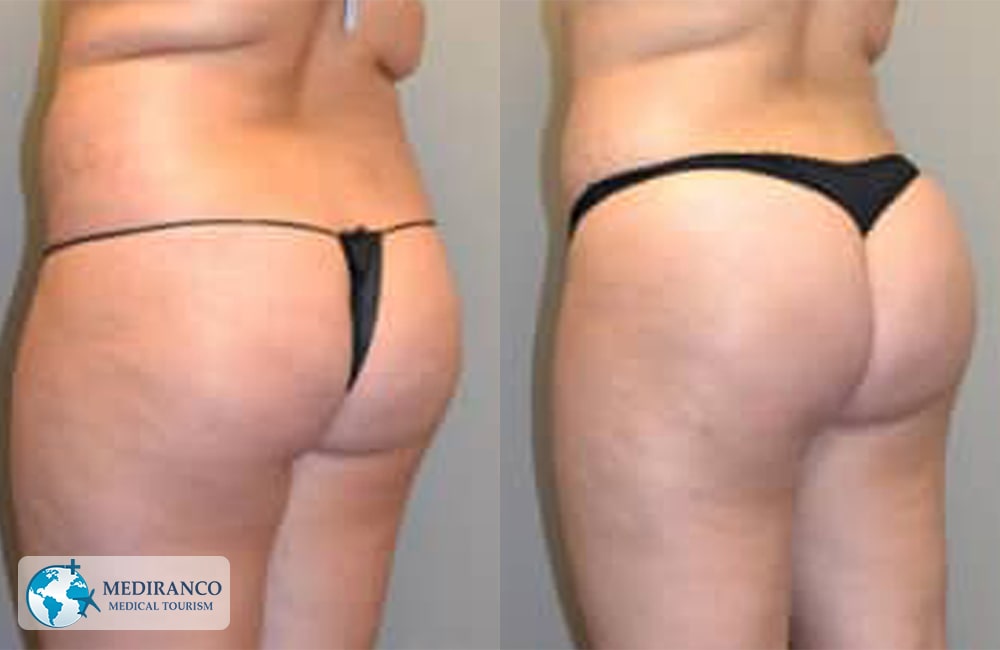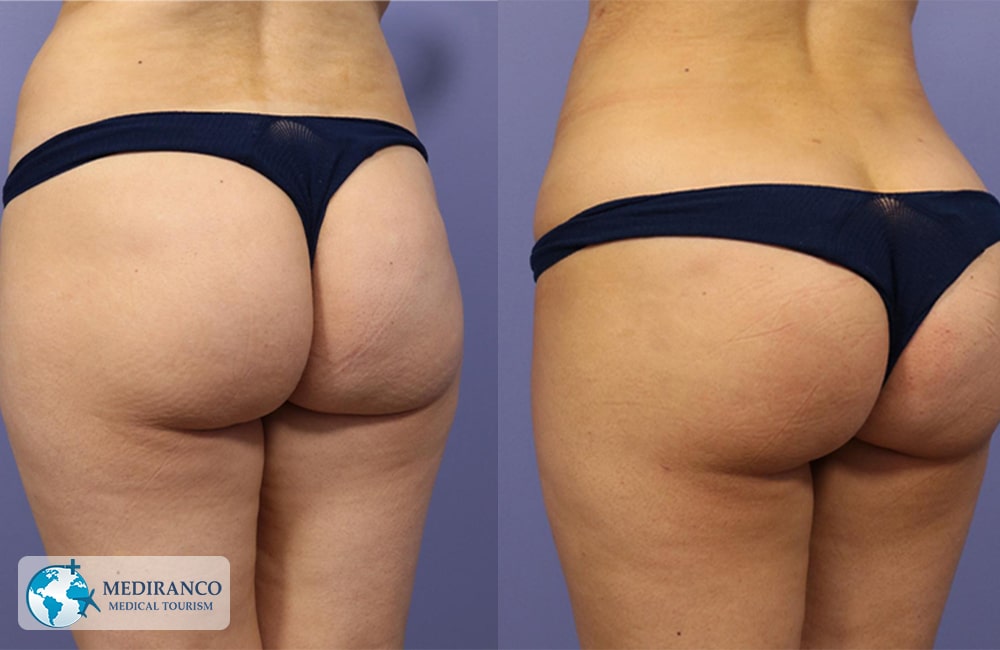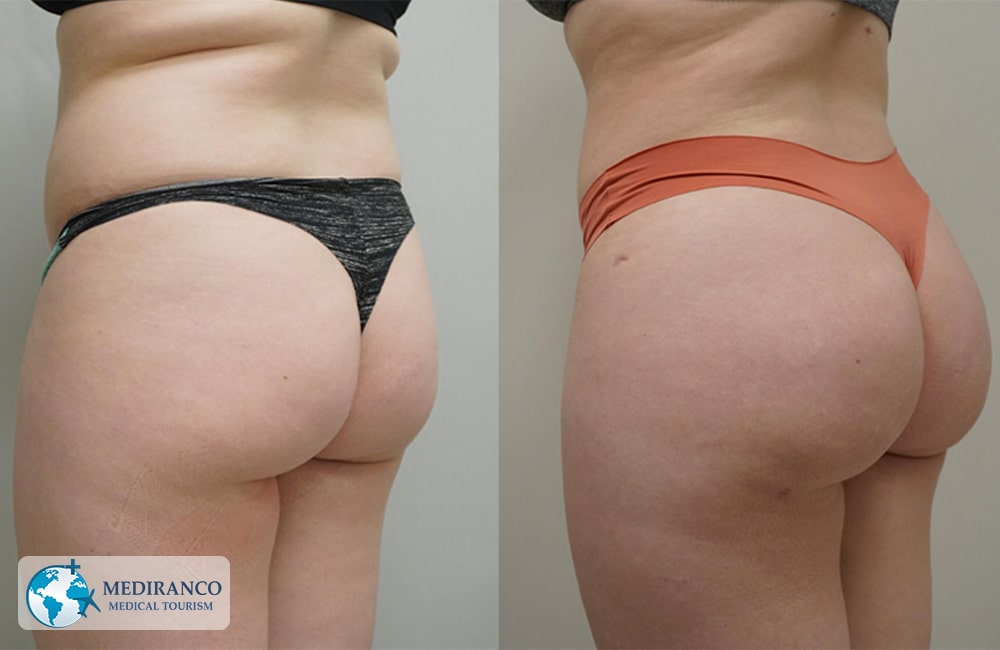 Make your dream body come true with us. Let's do it !
Iran,The correct destination for BBL
Why Brazilian butt lift with Mediranco?
Questions to ask before getting a Brazilian butt lift